Zuma's Revenge Deluxe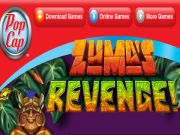 Zuma's Revenge Deluxe
Welcome to the game of bubble shooting game!! Zuma's Revenge Deluxe is a fabulous game of shooting bubble.
These bubbles are very colorful and you need to hit them before they reach to their end. However, if they touch the end, then they can create some disturbance, and you'll not be able to complete your game. Shoot the bubbles and try to form a group of three or more same colored bubbles. After forming such group, the bubbles will vanish and will no be able to touch the surface.
The game is as simple as clicking!! It has 4 different modes with different levels. Power-ups and exotic bonuses will enhance your scoring list. Play the full-finest quality version now, by downloading Zuma's Revenge Deluxe.
License: Demo
Language:English
Developer: PopCap Games
OS: WinXP/Vista/7