YetiSports 5 - Flamingo Drive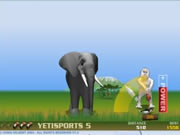 YetiSports 5 - Flamingo Drive
by Chris Hilgert
A real funny flash minigame.
Set the angle and the power and the Yeti will throw the pengiun so far as possible.
With the help of flamingos, Yeti undertakes a absolute funny and incredible amusing safari in the African savanna. Underneath giraffes, over elephants and acacias, catapulted high up to the sky by snakes and carried by vultures, the penguin demonstrates clean flying tricks on advanced level.
controls: mouse