Yambo Extra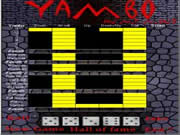 Yambo Extra
by Generation Stars
A remake of the game Yamb (Yahtzee)
Yambo Extra is a remake of the game Yamb (yahtzee) with 5 dices.
To play the game you roll five dice in an effort to make different combinations for the most points. You get 3 rolls for each turn, keeping the dice you like and discarding the ones you don't. Shoot for three-of-a-kind, four-of-a-kind, a full house, a straight, and more. Rules are based on standard poker hands, with a few extra bonus hands thrown in.
All in all, this is a great game for family and friends, coming with the High Score list to compete them. Instructions to understand the rules are implanted in the game.
In this Extra package you get the "Yambo - In My Mind" add-on made by Goran Duskic.
FEATURES:
* Hall Of Fame remembers the all-time top 10 scores
* Simple point and click play
* You can play with your mouse and/or keyboard
* Valid plays are highlighted on the scorecard after each roll
* Help option (basic rules of the game)
* Nice graphics and cool sounds