X-Ball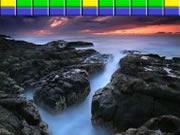 X-Ball
by Vdweller
A very enjoyable breakout with lots of great backgrounds
Normally I hate breakouts controlled by the keyboard, but this one is really great! Not less than 40 fantastic backgrounds, lots of powerups, good music, some secrets and there are even big bosses!! WOW!!
It's a slow breakout (arcanoid) in fullscreen, but the gameplay is great.
Controls:
Arrow keys = Move
Space bar = Shoot missiles (if you got the Laser powerup)
Esc = Pause / Exit
Notes:
If the background images make it hard for you to spot the ball, or if you hate beautiful images, input "simple" as password for a boring blue screen. Input "simple" again to get back to cool scenery.
If the ball seems to continuously bounce between certain spots, give it some time and its movement will gradually change (as it speeds up periodically). On certain levels, like Level32, patience (and the correct angle) is the key.