Worm Wars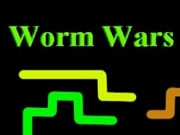 Worm Wars
by Francois S. Lamini
Worms go to War
Authors Description
This is an arcade game similar to Nibbles/Snakes excepts that you eat a worm instead of fruits and the worm tries to eat you.
Controls:
ARROWS - move worm
P - pause
Q - quit game
ENTER - start game/restart game on game over
This is a different style of a normal Snake game as you go to war against another worm to battle it out to see who can get the longest. A few obstacles or some fruit might of made this game a little better.
Note : I had to use Ctrl+Alt+Del to get out of the game.