World War II Pacific Heroes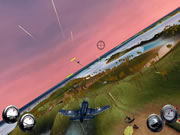 World War II Pacific Heroes
World War II Pacific Heroes is a great action game and you mission is to pilot a P-51 and eliminate all Japanese people that are in your way.
It's the year 2012. A nuclear war has broken out. Most countries in the world have fought and many have been vanquished. 5 countries have emerged as the major superpowers in the devastating war. Which one will you be?
Start as a general defending your base from the enemy and fight to become the dominant military presence in the world as you march your way to victory in World War. In this fantastic game you have to test your knowledge and abilities when flying as your qualities depend on the mission success. In this game you may play with to antiaircraft cannons to defeat enemies. A totally addictive game for those who love air and action. WWII Pacific Heroes is an innovative action game. It combines popular "point-and-shoot" gameplay with a simulation-action game. Everything takes place in fascinating scenarios. The player transforms into a pilot stationed with his squadron on one of the American aircraft carriers during the war in the Pacific. Breathtaking adventure during the Japanese-American War awaits him--aircraft-carrier battles, defensive action against Japanese invasion, and the storming of islands occupied by the enemy. Take out aerial and ground targets in this two-mission demo for the arcade-style flight-combat game.
License: Demo
Language: English
OS: Win2000/XP