Warzone 2100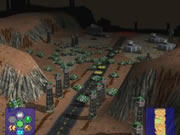 Warzone 2100
by Warzone Resurrection Project
A fantastic 3D RTS with a C&C gameplay (Win / MacOS)
A fantastic 3D RTS with a Command and Conquer gameplay.
The game has an easy and very good tutorial, but the controls are that easy that I could play the game without playing the tutorial first.
A professional made game whereby you have to create a base. A command center, power supply, factory and a research facility. Then you need to find some oil wells and build an oil rigs on it (go get power). Of course you also can build walls and all kind of gun towers. Don't forget to protect your oil rigs too ;) You even can design your own type of tanks!
Each level consists of a few missions. Mostly something as destroy the enemy base and steal their technologies (artifacts).
Controls:
All mouse controlled.
Esc: Option menu (options, save, load, exit)
Mouse scroll wheel: Zoom
Right click on the minimap to get there ;)
Features:
* 400+ Technologies to research
* 2,000+ different units to design
* 3 Large campaign maps to conquer
* 24 Fast play mission maps for extra action
* Intelligence Display sets objectives dynamically
* Interactive message system
* Fast Play Interface graphically Based
* Quick Screen Navigation
* Fast Find System for units & structures
* Set Factories to constant production
* Automatically send each factory's units to where you want them
Warzone 2100 was an innovative 3D real-time strategy game back in 1999 (developed by Pumpkin Studios and published by Eidos-Interactive), and most
will agree it didn't enjoy the commercial success it should have had. The game's
source code was liberated on December 6th, 2004, under a GPL license.