Vigilante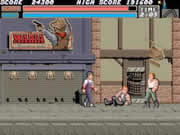 Vigilante
by IREM corp - Paul Siramy
A very nice fighting game
Game Modes:
* Arcade mode is classic-style action, with 2 credits of 3 lives, and an extra life after finishing each level.
* Survival mode gives you only one life for the whole game, but you slowly regenerate if you don't move at all. If you walk, you will regenerate also, but only half as fast. Jumping and using heavy weapons (chain, pipe) will tire you, requiring you to rest a few seconds before you actually start regenerating.
Note: Since a pair of knife-men or punks can sometimes kill you outright in 3 seconds, survival mode is much more difficult during levels, but usually easier when fighting the boss. This mode is intended for experienced players only.
Look at the Vig_man.htm (included in the download) for keys, options and cheats!