Transformers The Game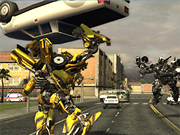 Transformers The Game
It is up to the gamer to decide how best to use their surrounding environment.
The Game is the name of multiple versions of a video game based on the 2007 live action film Transformers, all of which were released in North America in June 2007.
Based on live-action film Transformers, the game lets players control the outcome in the battle for Earth as they choose to protect it as autobots or destroy it as decepticons. Players will also experience the unstoppable power and massive scale of their favorite robots in disguise such as Bumblebee, Barricade and others.
After years and years of waiting, Transformers fans finally have a big-budget, US-released action game starring the robots in disguise to call their very own. Titled simply Transformers, this new third-person shooter from Atari is based on the recent Transformers toys and cartoon series, which have subtitles like Armada and Energon, rather than the original toy line and television show from the early '80s that most 20-something gamers will be most familiar with. However, you'll still find plenty of (slightly modified) familiar faces in the game, like Optimus Prime, Starscream, and Megatron. More importantly, once you dig into Transformers' gameplay, you'll find a surprisingly intense combat model that's pretty tough but also rewarding once you get a handle on it.
The storyline in Transformers can be reduced to 'Autobots versus Decepticons' without much effort. You'll play as one of three autobots--everybody's favorite Optimus Prime; The Well-rounded Red Alert; and the quicker, weaker Hot Shot--and you'll fight your way through a linear progression of stages, blasting everything in sight. Both factions are scouring the EARTH in search of the mini-cons, a long-lost race of miniature transformers whom the big guys can equip to gain new weapons and other abilities. Each of the game's seven regular levels has several mini-cons scattered throughout, some that are harder to find than others, and you'll be able to revisit completed levels later to pick up mini-cons that you missed or couldn't access before.
License: Demo
Language: English
OS: Windows 98, Windows 98 SE, Windows ME, Windows 2000, Windows XP