Tram Simulator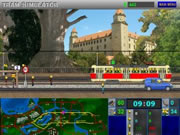 Tram Simulator
by Daniel Viktorin
A great, unique and addictive 2D Tram Simulator
In this game you can buy two kind of trams and choose one of the 3 tram lines. You can earn money by driving the trams through the big city.
You only need 5 keys (Q,W,E,R,T and D) to play this game. The Q key means the regulation of speed 0 km/h and next keys mark an advice for speeding up to 15, 30, 45 and 60 km/h. You basically just press the pedal to 5 positions and let the speed of the tram to itself. Remember that a tram is not a car and so it necessary to adopt its operating well because for example braking is not an easy thing. Don't drive too fast or through red lights else you will get a penalty. Figure out well your speed strategy and follow the warnings. Work of a tram driver demands a good perception.
Controls:
Q,W,E,R,T = Speed 0, 15, 30, 45, 60 km/h
D = Open/close doors
Mouse in menu
I really enjoyed this game that much I even bought ($5) the author's other simulator (City Traffic Simulator with 11 trams, etc). I think it's the first time I payed for a game *blushes*, but I am glad I did it ;-)
Note:
The download contains 3 install files. One for the game (3-InstallTramSim.exe) and the two other installs are only needed in case you are missing some files (DirectSound and some C runtime files).