The Ashes Cricket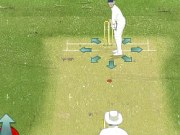 The Ashes Cricket
Batting-
(1). Use the directional keys to choose which direction to play your shot.
(2). The red target shows where the ball will pass
(3). When the circle says 'Hit!' Press Normal shot, or, Attacking Shot.
Bowling(2-player only)-
(1). User the directional keys to position your bowling marker.
Press any of your shot buttons to place it.
(2).As the Bowler runs in you have a limited amount of time to adjust the amount of spin applied to the ball using the directional keys.
Fielding(2-Player Only)-
(1). Your fielder will be highlighted with a coloured circle.
Use the directional keys to control him.
(2).He will automatically pick up and throw the ball back, or catch it if in the air.