Superbike Racers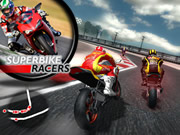 Superbike Racers
Superbike Racers is a game for speedy and fast paced players. One of the most liked racing game competition.
This is an awesome set up. You have arrived in a location with full of enthusiasm and excitement. Your competitors are ready to beat you. You just have to be faster - faster than any of your competitors. The modes and options in the game are incredible. Go through each level and score as high as possible. It is not an easy track to follow. Your stunts on bike will place a good score. You must use your expertise technique to show your expertise.
Superbike Racers presents ranges of modes. Bikes will be of your choice such as the Rapida, Supera or Hypera, from which you can select any one. Skills can be tested in this game by selecting your mode that is single race, time attack or competition. Keep your intentions clean and clear, and just go for the five star performances. You just need to impress everyone with your feat. Are you ready for a freaky show of stunts? But it can only happen as soon as you'll download this game. So what are you waiting for, download it now!!
License: Free
Language: English
OS: WinXP, Vista, 7