Super Mario Ultra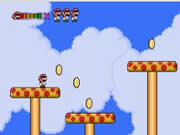 Super Mario Ultra
by R@Di - Radical makers
A nice jump and jump game
I cannot tell you much about this game because I only played the first level. I found the gameplay a bit boring and after two retries I was tired of playing this game. Jump, jump and jump untill you fall in the abyss, not very exciting.
The graphics and music are both very good.
Story:
The princess is kidnapped by Bowser, so it's on you (as Mario) to safe her off the claws of the evil monster.
The menu is in Portuguese, so here some translations:
- Tela inteira = Full screen
- Janela = Windowed
- Jogar! = Start game
- Visitar o Radical Makers = Visit our site (broken link)
- Sair = Exit
Controls:
Arrows = move
Space bar = jump
F3 = load game
Del = delete saved game
F10 = pause
Esc = exit game