Super Mario Bros 4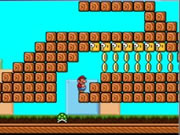 Super Mario Bros 4
by Roy Farrow
Princess Peach is so innocent and cute that Browser kidnaps her one or other time. It has become Mario's duty to set her free. Help Mario again, in this Super Mario Bros 4 game.
The game is as simple as every Mario game. But to explain in simple terms, in this game, Mario has jumping ability with normal walking, down pipe, long jump, etc. The disadvantage is that Browser has also stolen Mario's fireball, swimming and flying skillfulness. There are lots of bad and dirty enemies, who want to stop your way throughout this game.
So play skillfully and save Mario's Princess Peach in this Super Mario Bros 4 game.
Use Arrow Keys to Move.
Use Z Key to Jump.
Use X key to Run.
Use Z + X Key for long jump.
Use Up Arrow Key Up Key for doors.
Use Down Arrow Key for down pipe.