Super Mario Adventure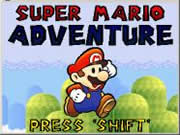 Super Mario Adventure
by Skahott and Edweirdo
A great and funny Super Mario game.
There are 10 levels, several boss levels and a really difficult final level. There is a big variety in graphics and gameplay between all those levels. eg. In level 7 Mario has to run for his life, or you have to play with a fake Mario as in level 10. And each world is very different too. eg. A spooky level or a level in a volcanic castle, or.. too much to mention them all here.
As in a usual Mario game there are powerups, you can kill the enemies by jumping on their head, etc. But in this game you can also find some weapons, such as a hammer, a throwing star, etc.
Story:
Many years have passed since Mario last fought his arch enemy Bowser...Mario never expected to fight Bowser ever again... until one dark night....when Bowser's castle mysteriously appeared over the horizon...and the Princess strangely vanished. Mario knew that Bowser had returned....but was it really Bowser? Wasn't he defeated by Mario years ago...or did someone else take over Bowser's castle after he was gone Whatever the circumstances, Mario knew he had to save the princess. Mario's new adventure has begun...
Controls:
Arrow keys = move
Shift = jump
Ctrl = shoot
P = pause
Enter = for entering a level
Passwords:
In the upper menu bar (Main Menu / Password), you can enter a password to jump directly to the right level. I completed all the levels (except the final level, this one was too hard for me), so I have all the passwords. If you want to cheat, you can see or download them here.
The game has great music, graphics and gameplay. In one word: A great game!
A shame you cannot play the game in full screen. It only runs in a window of 328 x 286. But all in all, this is surely one of the best Mario fan games.