Super Mario Adventure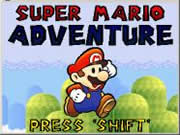 Super Mario Adventure
by Skahott and Edweirdo
Super Mario Adventure is a beautiful game of Mushroom Kingdom.
Mario and his friends always need to face so many problems in his life. This is the reason; they need your help to rescue from this place. The place starts with Mario and Luigi entering the Mushroom Castle basement and starts out their respective work.
Various enemies of Super Mario World arrive here and start attacking them. The whole Mario friends have been arrived to this place, and now it's their duty to set them free by fighting back with Browser. Sometime, it will be impossible for them to beat the enemies, but winning is out target!
He needs to jump on every enemy head and kill them. Collecting golden coins is very important, as you also need to increase your score. Let's start with the Super Mario Adventure…
Use Arrow Keys to Move. Press Shift Key to Jump. Use Ctrl Key to Shoot.