Super Mario 3: Mario Forever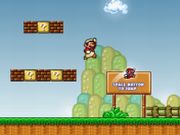 Super Mario 3: Mario Forever
Download Super Mario 3: Mario Forever game on your processor and enjoy playing it.
Super Mario 3: Mario Forever is nothing but a re-establish (remake) of Mario Forever. The Princess Peach is again kidnapped and you need to help Mario in releasing her. The Mario is out to kill the enemies. He has no weapons to kill them. The only way to kill the enemies is by jumping on them. Mario must avoid some dangerous insects too. Mario can jump on platforms, and has to beat the evil dragon 'Koopa' too.
The game has lots of place to explore and you need to face each and every part of them. You'll go through lots of different levels in this Mario game. Help Mario collecting the shining golden coins on his way. It will help him Mario in his journey. Remember!! Your only aim in this game is to make Mario to be the winner. Mario, in short, is on this great adventure. Play skillfully, and don't forget to download this Mario Forever video game. You'll feel it worth downloading and playing because it has a cheerful music and effects, which will make you enthusiast and fanatic to follow this Mario game. This game is for every Mario's fan.
Publisher: Softendo Free Mario Games
Version: 5.013
Operating systems: Windows 7, Windows 2003, Windows Me, Windows 98, Windows 2000, Windows Vista, Windows NT, Windows XP, Windows Server 2008