Super Mario 2-Yoshis Island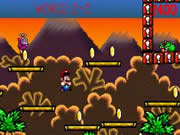 Super Mario 2-Yoshis Island
by Fabian Gross
Free Yoshi's kids - plenty of nice levels
You'll find Super Mario 2-Yoshis Island game the quality downloadable Mario video game.
The game is quite different from all previous Mario games. In this particular game, the players control various Yoshi dinosaurs instead of Mario himself, who appears as a helpless infant.
Following a linear prototype, the objective of every level sees the player controlling a Yoshi in sort to securely guide Baby Mario to the end and pass him onto another Yoshi. Yoshi can take numerous hits and save the Baby Mario in this game. Play skillfully and help Yoshi in all the 6 levels in this game.
After each level, you'll get a password so that you can continue the game from particular level, whenever you feel like. Control Super Baby, and be a Super Hero for Super Mario in this game.
Controls:
Use Arrow Keys to Move and Bend.
Press Shift Key to Jump.
F2 = new game
Ctrl+P = pause
Ctrl+M = music on/off
Ctrl+S = sound on/off
Alt+F4 = exit game