Super Bubble Blob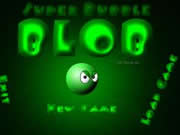 Super Bubble Blob
by KNPMASTER
A very challenging puzzle game
Super Bubble Blob is a very challenging puzzle game. You are a blob of goo and your goal is to make it to the yellow square on each of 40 levels. You do this by jumping, stretching, sliding, pogoing and even falling. But don't fall off the screen or into the water. Some of the items and manuvers that you will encounter are
Wall Jump - Press against the wall then press SHIFT
Sticky Block - Stretch to it to stick to it
Springs - Red: bounces hard, orange bounces light
Pogo - Stretch at the floor to clear the spike balls (takes practice)
Tight Rope - You can walk across it, but you cannot land on it.
Spike Balls- You will pop if you touch tem
Zipline - shoot you upward to the top of the line
There is a tutorial at the beginning of the game. When you finish it, you will have all the necessary skills to complete all the levels, but it still won't be easy! The music is good and the sound effects are relly neet. Don't go looking for options because there aren't any. At the beginning title screen you can load a game and start at any level which you have previously played and you can get help. There is no pause during the game but that would not be useful. This game tests you hand/eye coordination to the limits. The timing doing certain stunts is very critical and then of course when you start the level you must plan on exactly how you are going to complete it.
Controls:
Arrows Left/Right = Move Left/Right
Ctrl = Stretch
Ctrl+Arrows = Aim Stretch
Shift = Jump
All in all Super Bubble Blob is a fun and addicting game to play.