Sudoku King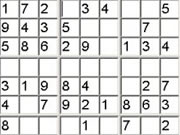 Sudoku King
by Mike Smith
A simple Sudoku game
What is Sudoku?
Sudoku is a logic-based placement puzzle. The objective is to fill the 9x9 grid so that each column, each row, and each of the nine 3x3 boxes contains the digits 1 to 9. The puzzle setter provides a partially completed grid so that there is only one solution.
This game works fine but it could be better:
- no possibility to use the arrow keys, so you always have to use the mouse and keys together.
- you can change the start numbers, which should be fixed.
- when completed the puzzle it doesn't mention it
Controls: Mouse + keys 1,2,..9
from the author:
It's a Sudoku Puzzle solver/generator. Use it to solve puzzles or to make your own. You can print out the puzzles you create.
Enjoy!