Stream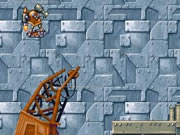 Stream
by Houp
A small skill game with a jumping robot
Stream is remake of the game Aztec Challenge from AtariXE. Every life on the Earth was destroyed in 3rd World War. Nobody couldn't live on ground under the black sun. You are a robot and you have to get to the laboratory where are genetic information of all life. You haven't much time.
Principle of the game is very simple. The robot go without end and you only can press one of 3 buttons. Each for differente jump. First jump is very small, the last one big. You can't collide with anything. Then you will explode. Game has 13 levels. It sounds easy but do you really think that it is true?
Controls
a - small jump
s - medium jump
d - big jump
In Options - "Vyber level(u)" you can change the start level, so you don't have to start each time from level 1.