Steam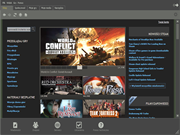 Steam
The full Steam library and all future Steam releases are at your fingertips.
Steam is a game and download/update manager from Valve, the creator of Half-Life. Allowing you to buy and download any of Valve's games, like the recent, fantastic Left 4 Dead 2, Steam also has a huge library of titles from other big developers, as well as free demos and videos.
The list of games is ever increasing, and it also supports non-commercial things like game mods. Installing and setting up a Steam account is really easy, and the download manager is very stable. Whatever your internet connection speed, you don't need to worry...After you've purchased a game, download it immediately and start playing. Now it's easy to find someone to play with, meet up with friends, Connect with groups with similar interests, and host and join chats, matches, and tournaments. Best of all, it's all free. With Steam's "Friends" service, you can talk to your friends while you play. You can also see when they're playing games and easily join the same servers together. Steam's integrated server browser makes it easy to navigate thousands of Internet game servers. Hunting for patches and downloading from unorganized web sites is so twentieth-century. On Steam, your games stay up-to-date by themselves. No hassles. Once you have a Steam account, you can sign in from any PC to access your games. Your games are associated with your account, not your computer. From pre-release discounts to free-play weekends, Steam delivers what gamers value most.
License: Free
Language: English, Spanish, German, French, Italian, Portuguese, Russian, Turkish
OS: Win2000/XP/Vista/7