SpongeBob SquarePants - The Game of life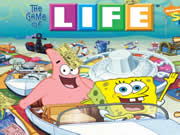 SpongeBob SquarePants - The Game of life
In The Game of Life, players Roll and Move their way through life while competing to retire with the largest amount of money.
See what life in Bikini Bottom has in store for SpongeBob and all of his friends in The Game of Life - SpongeBob SquarePants Edition! Spin the wheel as SpongeBob, Patrick, Sandy, or Squidward in two great game modes.
You will be able to choose to play the way you remember with the official Game of Life rules, or play with SpongeBob's rules featuring waterlogged mini-games to change prices and bend the rules. Or, customize the game, create your own rules, and play your way!
Featuring incredible 3D graphics, fantastic animations, and loads of surprises, The Game of Life - SpongeBob SquarePants Edition is a wonderfully wacky version of the classic family board game. Get your feet wet with the free trail version of The Game of Life - SpongeBob SquarePants Edition, or play the full unlimited version and see if you can be the one who ends up with the most clams!
In this version, player spin the wheel at the beginning of each turn and move game pieces around Bikini Bottom. Rules have been adapted to reach a younger audience. While players may still go to college, make career choices, rent a home or pay expenses, the impact of choices has been decreased and pets are now acquired instead of families. Players may also enter raffles to win prizes. Once all players have reached the Shady Shoals Rest Home, the player with the highest net worth wins.
License: Demo
Language: English
OS: Win2000, XP, Vista