Special Force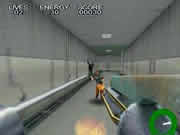 Special Force
by Filipe Coutinho
Eliminate the bad guys in this 3D shooter
In this 3D shooter called: Special Force, your primary mission for each of the 3+ levels is to destroy the Boss Mutant at the end of each level, to progress to the next level. The Boss Mutant is found by keeping your compass pointed up and watching your distance meter. Shooting as you might expect is what this game is all about. Enemies shooting at you and you shooting at anything that moves and even at things that don't move. With good shooting, you can even eliminate the "men in black." Throughout each level there are many items to find including first aid kits and extra lives. Find these and pick them up because you will need all you can get for the higher levels.
In the game's folder there is a file called setup.ini. This file can be used to set a few options, the most useful of which is the fullscreen/windowed mode. The default is fullscreen. Other than this file there are no options during the game. The sound and music are much like what you would expect to have in a game of this type. The biggest drawback to Special Force is that there is nothing saved. To complete the game you have to start AND finish it all in one go. You can enter you name for high score, but it isn't saved either.
Controls:
Arrows = move
Mouse = aim
Left Mouse Button = fire weapon
Right Mouse button = jump
Esc = quit game
For people who collect 3D shooters, I wouldn't pass on this one.