Sonic the Hedgehog Adventure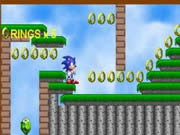 Sonic the Hedgehog Adventure
by LHP
A poorly made Sonic game
Authors Description :
This is the first game of the Sonic the Hedgehog Adventure series, and since the 2nd was hit, LHP has decided to rerelease the 1st one.
All was peacful in the galaxy, until Eggman started polluting Outer Space with debris and evil robots! Now it's up to the one and only Sonic the Hedgehog to defeat Eggman and destroy all of the robots!
Stick to Playing Sonic the Hedgehog Adventure 2
Well first i will say is stick to playing Sonic the Hedgehog Adventure 2 as this game is poorly made compared to that one. Graphics are not that good, gameplay is boring and levels are very short and all the bosses look the same. If you want to waste an hour of your life then play this game.