SMB-Revenge of Bowser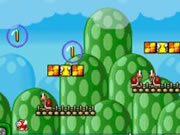 SMB-Revenge of Bowser
by Hello
SMB-Revenge of Bowser game is a unique Mario game!
Explore this game by playing the character of Mario. This is the proper game of revenge and you need to play diplomatically. He must jump on his enemies in order to kill them. If he will be little late in his attack, then these enemies will hit him and he will be killed. Mario has to attack them repeatedly. Jump through all his enemies and kill them. Jump through the walls and explore the area. Don't forget to collect the bright golden coins. It will of course make you score high points. Help your Mario in this game.
Controls:
Shift: Jump/Enter Level/Title Screen Selection
Ctrl: Run/Pick things up.
Arrow keys: Move/Duck
Space bar: Let out your reserved item.
Enter: Pause/Unpause
F1: View This.
F2: Restart Game
F3: Full Screen + Resolution
F4: Full Screen
Optional Controls:
Z: Same as Control
X: Same as Shift