Save Mario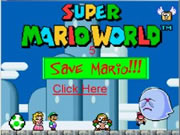 Save Mario
by AngryKoopa
It was always Mario when he used to save others life, but this time his friends has to show their true friendship. Boo, Mario's enemy has kidnapped Mario. And now, Mr. Second Fiddle, Luigi, and the Princess Peach (Mario's friends) have to set him free.
There are 6 engrossing levels in the game. And they terribly need your help to Save Mario. Use controls appropriately and play safely. Good Luck!!
Controls
arrows = move
X = jump
Z = shoot
F2 = restart game
F4 = full screen / windowed
Ctrl = pause
F9 = clear highscores
Backspace = load game
Enter = save game while touching Yoshi
Enter = skip intro
note
To enter the next level, press the Up arrowkey while touching the brown double door to the next level.