Santa Claus in Trouble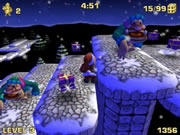 Santa Claus in Trouble
by Joymania development - CDV software
A beautiful 3D jump and run game
Santa Claus in Trouble is a multilingual(10 languages), 10 level, 3D platform game in which you play Santa and must retrieve all the lost Christmas presents and find the way back to your sleigh in order to save Christmas. It's not easy finding and getting all those presents because there are many obsticles in your way. Some of these include trolls, mean snowmen, moving platforms and chimney fires. Even at times; just jumping from platform to platform can be dificult and it is a Looong way down! There are checkpoints along the way, so if you die you will restart at the last checkpoint that you reached. At the end of each level your score is calculated and based upon total number of presents collected and the amount of time remaining. The game keeps track of your 10 top scores but, the online score keeper is no longer available.
With its lively Christmas tunes and holiday sound effects, Santa Claus in Trouble is certain to get anyone into the holiday spirit. The screen shots don't do this game justice. The graphics are superb! There is not a whole lot in the options department but the config.txt file makes up for this. The in game options consist of music and sound voulume controls, controller type and language. The only thing that this game is lacking is a save game feature. There are three annoying exit screens with ads for their other games, but if you exit by pressing Alt+F4 these will not appear.
The configuation file called "config.txt" can be opened just by double-clicking on it and has the following default values:
Resolution 800 600 (any resolution your system can handle)
Bitdepth 16 (should be 16 or 32)
Fullscreen 1 (use a 0 to run in a window)
Language 0
UseFog 1 (can be 0 or 1)
Controller 0
Music 85
SFX 100
The items above without () can be set in the options menu.
Keyboard Controls:
Arrow Keys = Move
W/S = Move Forward/Back
A/D = Turn Left/Right
E = J = Space = Jump
Exit = Alt+F4
Mouse Controls:
Mouse = Turn
Right Mouse Button = Forward
Left Mouse Button = Jump
Arrow Keys = Move
Joystick/Game pad Controls:
Stick = Move
Button A = Button B = Jump