Rubber Ninjas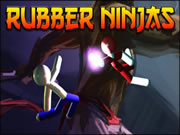 Rubber Ninjas
Rubber Ninjas is a one or two player fighting game. It features easy to learn controls, ragdoll physics and some spectacular Matrix-like bullet time camera effects.
Rubber Ninjas is an experimental 3D ragdoll fighting game by Matteo Guarnieri of Rag Doll Software. The game features ragdolls of many sizes and shapes, fighting bare handed or with a variety of different weapons.
Thanks to the innovative gameplay based on Matteo's own Ragdoll Masters, players will never fight the same fight twice, and all moves will be different and spectacular.
Rubber Ninjas uses smooth OpenGL graphics, a custom ragdoll physics engine and cinematic camera techniques to provide an immersive and thrilling fighting experience. You can play all the single player campaigns (for a total of more than 50 levels) and chose all fighters and weapons in 2 player mode. Sometimes you are armed with batons or sticks, other times not. The trick is basically to fling your limbs into the opponent with as much momentum as possible, while protecting your head. It's easy to pick up, but playing thoughtlessly doesn't work too well. It basically comes down to timing a little luck, to get a good point against your opponent. When you clash, time slows and the camera spins around the dueling Rubber Ninjas, which looks cool, though occasionally it is disorientating, and control gets confusing! This demo allows you to play three stages of the single player campaign, and a two player game. Each round is set in a globe, with a painted background. Using only up, down, left and right, players launch their ragdoll rubber ninjas at one another, trying to hit their opponent.
License: Demo
Language: English
OS: WinXP, Vista, 7