Robocop 2D 2: Robocop vs Terminator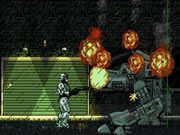 Robocop 2D 2: Robocop vs Terminator
by Park Productions
A great shoot'm'up platformer
Robocop returns in this bigger and better sequel to the original Robocop 2D. Alex Murphy is now the target of the self aware CPU Skynet. Lured by a Terminator appearing in Detroit, Murphy is trapped in a timesphere device only to reboot seconds later in the rubble of Los Angeles 2029!
Extras:- Time Attack mode, 7 Challenge modes & 3 Mini-games.
Story:
Robocop's police vehicle comes under heavy gun fire from a nearby Detroit alley, pursuing and battling the assailant Murphy discovers the man is more machine than him. Unknown to Murphy this Terminator has not just traveled back in time to destroy him, but has been programmed to capture and send him to the future.
The Terminators creator Skynet, a now powerful self aware CPU sees Robocop not now as a threat to it's plan of human elimination but as an asset. Skynet plans to use Robocop's successful integration of human & machine to build a new wave of Terminator models utilizing brains from captured resistance soldiers, allowing it's machines to think like man in order to erase mankind.
Controls: Keyboard, Joypad or Mouse
Arrows = Move
Z = Fire
X = Weapon
C = Strafe
S = Overlock
D = Holster
P = Pause