Road Rash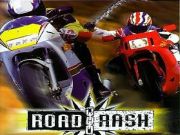 Road Rash
Welcome to the well-known motor-cycle racing game, called 'Road Rash'. The awesome video game series is published by Electronic Arts.
Road Rash is like state of excitement and addiction for car-racers. The biker is crazy in this game. Be ready for a freak show and run in the hills and into unfamiliar territory with this adventure bike. A biker can lead in every race and the most important thing in this game is the surrounding.
Take a control of bike and speed up as far as you can. Make sure that no tragic accident occurs in this adventurous game of motorbike. Or else, police will start following. There may be 8 competitors in the race at the same time on the screen, but there is only one winner. Participate in this thrilling and exciting race by downloading it in your PC, where you and your bike get a chance to win the race. Watch out the deadly turns, and also be cautious of your balance on the bike. Get ready to be the winner!
Publisher: Electronic Arts
Operating systems: Windows 98, Windows 95, Windows XP