Pure Sudoku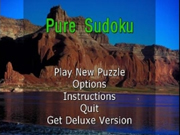 Pure Sudoku
by Mochek Interactive
Sudoku puzzle game
Authors Description :
Pure Sudoku is a completely free, attractive version of a Sudoku puzzle game for your WindowsXP PC. It features - Easy to use controls - 43 beautiful backgrounds - Four difficulty settings for players of all skill levels. - 20,000 unique puzzles.
Yes Sudoku again, this game has 4 settings from easy to hard, also has some nice background pictures and easy to use mouse controls, Sudoku is still a game you play when you have nothing to do, so if you are bored of Jumping, Shooting, Driving, Arcade, and Action games give this one a try .
Controls : Mouse