Pro Evolution Soccer 6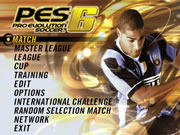 Pro Evolution Soccer 6
This is the tenth iteration of Wiinning Eleven. It's a direct port from PS2 version.
PES 6 features the graphical and gameplay tweaks that enable each new title to play completely differently from previous incarnations.
The shooting system has been the subject of extensive retouching, now enabling players to pull off much more accurate snap shots as well as being able to exert a much larger feeling of control when going for quick half volleys or difficult full volleys.
The intelligence of players has seen a marked improvement. For example, players now make more realistic runs into space, often pointing where they would like the ball played. The physical aspect has also been beefed up, with strikers using their sheer presence to turn defenders and likewise, the defenders stepping a yard away to enable them to force players away from goal and not letting them spin into dangerous positions.
PES 6 also has a number of new teams licensed for inclusion, with the International roster now featuring the official kits for Argentina, the Netherlands, Italy, Spain, and Sweden. New gameplay modes have been added and features like the much loved Master League mode also returns, together with a host of new tricks, feints and animations that can be used to bamboozle your opposition. The Pro Evolution Soccer series is renowned for its realism, and Pro Evolution Soccer 6 is abundant with new gameplay additions. Player AI has been massively upgraded, with players running intelligently into space when not in possession of the ball and pointing where they want the pass placed to continue the attack. Similarly, the physical side of play has been refined, with players working to turn a defender as they receive the ball, while defenders must learn to stand off slightly to prevent such moves.
Series creator Shingo 'Seabass' Takatsuka has also worked to refine the shooting system of the new game, and players will be able to attempt more snap shots than in previous versions, while volleys and half-volleys have been redesigned. Other new moves include the ability to retain control of the ball when sliding in to tackle, while all-new feints and backwards dribbling are now available thanks to the improved dribbling controls, while headers have been changed to allow players more movement in the way their strikers jump and head the ball.
Pro Evolution Soccer 6 also has a number of new teams licensed for inclusion, with the International roster now featuring the official kits for Argentina, the Netherlands, Italy, Spain and Sweden. Details on official club teams and more national squads will follow.
other new additions include more balanced referees, and a selection of exciting new gameplay modes. An International Challenge involves leading your home country to victory through a series of entry and tournament rounds, while a Random mode lets the player play quick games within randomly-generated match day settings. The much-loved Master League also returns, allowing players to experience the many highs and lows of steering a team through years of competitive games. Aging players, injuries and pressure from the board all combine to create a truly immersive game where results are everything. With its slick moves and realistic action, Pro Evolution Soccer 6 is certain to glide past rival titles with ease and enjoys an impressive roster of new moves, licensed clubs, and gameplay modes.
License: Demo
Language: English
OS: Win2000, XP