Pokemon World Online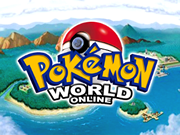 Pokemon World Online
While enjoying the game you may encounter people from all walks of life, from any background, and from just about any country on Earth.
While our game requires players to be 18 years of age or older to register an account, it is perfectly acceptable for a younger person to join us with parental permission. Since we're family-oriented, we attempt to preserve a child-friendly atmosphere by removing inappropriate or adult content that may somehow find its way into our server space.
Although we do not have an official language, a large majority of our players speak either English, Portuguese or both. All staff speak English. While these are the predominant languages, there is still a wide variety of dialects and languages that vary day-to-day depending on our current players. Notably, South-East Asian languages often are spoken, as are European languages such as Dutch and German. New players begin in SaltSpray Bay (Starters Island) and are challenged to, like our favorite hand-held games, battle their way through a series of "Gyms" in order to be eligible to battle world-class trainers. On top of this, PWO provides unlimited access to player-versus-player (PvP) encounters. While it is not necessary to participate in PvP battles, all players eventually will find themselves challenging computer-operated Gym leaders and trainers. PWO has been in production for just over a year now, and has made large leaps in progress since its quiet birth. A friendly, welcoming community awaits new players, and a competent staff is on duty to ensure quality entertainment. If you are a fan of Nintendo's hand-held games, you will thoroughly enjoy our interpretation. A brisk dawn. A warm, sunny afternoon. The dead of night. It can happen at any time; it can happen without warning. Wild pokémon roam the world, just waiting to pounce on unsuspecting adventurers. Wielding inhuman powers and possessing seemingly unnatural traits, these monsters fight tooth and nail to defend their territories. Yet, despite their ferocious appearances and disarming charms, pokémon are still the source of much scientific study. Many Professors would crawl directly into an angry mother's den just to observe the way the pokémon interacts; it is this drive and ambition that shapes our world today. The time for heroes is upon us! It is up to you and your friends to understand these so-called monsters and discover who they really are. You have been granted a Pokedex to help catalogue your data so you may share it with Professors and Breeders all over the world, to help their research. It is your duty to capture, tame, and befriend these pokémon. Through your efforts, people and pokémon may one day live together in peace. The time for you to achieve glory and respect is now. Carve your name into the history books, and prove your might to the universe! Go forth, and claim your destiny! A Trainer has been born!
License: Free
Language: English
OS: WinXP, Vista