Pokemon Skydiving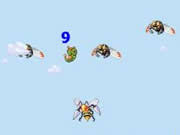 Pokemon Skydiving
by BJ Gamecreations
Collect 10 pokeballs while falling in order to evolve
Play as a pokemon, eg Caterpie who is falling down. The only way to avoid smashing on the ground is to evolve into a Butterfly or so. To do that you have to collect 10 pokeballs while falling. That is not difficult, but you have to watch out for the enemy pokemons!
In this game you can choose one of the 10 pokemons to play with (5 normal pokemons and 5 secret ones). There are 6 intense levels for each pokemon.
Each time you fail you get the possibilty to restart the same level by pressing the enter key. You also can press F5 to save the game so that you can start the game from the last level you succeeded by pressing F6.
I never reached the sixth level, it's quite difficult to do that. Are you a better player than I am?
Controls:
Arrow keys (left/right/down) = move
F4 = full screen / windowed
F5 / F6 = save / load game
Ctrl = pause
Alt = restart game