Platypus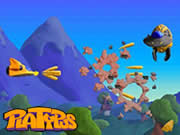 Platypus
Platypus is a clay world, shooter action game.
All that stands between you and complete destruction is an antique aircraft called Platypus!
The vast, continent-spanning city of Collosatropolis has finally reached the limits of its expansion. Tall buildings cover every available space. The air is thick with smoke and poisonous chemicals. Parking is a nightmare.
The Collosotropolan leaders have decided the simplest solution is to invade the neighboring country of Mungola. They don't anticipate much of a struggle - Mungolans are simple, earthy types without much love for industry. In fact, Mungola's entire defense force consists of a single squadron of fighter planes - the venerable F-27 "Platypus."
• Blast your way through four jaw-dropping claymation worlds of incredible shooter action!
• Clay graphics that are nothing short of incredible. Every graphic was hand-molded with real clay!
• Two-player simultaneous action.
• Platypus is a rather large download at 14 megs, but it's worth it! It's one of the best looking games ever created!
• Safe, secure online ordering from a well-known and trusted source.
License: Demo
Language: English
OS: WinXP, Vista, 7