Plane Arcade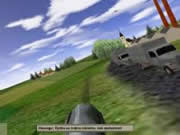 Plane Arcade
by Peter Adamcik, Simon Meszaros - 3D Games dev.
A great Czech flightsim- missions in World War 2
The game is completely in Czech, so you are warned. As long you are playing the free flight (an air combat) you do not need to understand anything. But the briefings of the 15 missions in Campaign are in Czech and I couldn't translate them. Nevertheless I played them all, so here what I suppose over the briefings:
Missions: (see mini-screenshots)
1. Just throw your 5 bombs
2. Destroy the enemy base
3. Destroy the enemy base + some planes
4. You haven't any munition! Just fly over the convoy and return to your base.
5. Destroy a convoy of tanks and trucks
6. An air combat
7. Destroy the tanks around the runway
8. Shoot the two bombers down. Watch out for the tanks and fighters.
9. Destroy the tanks and watch out for the fighters, they come up 2 by 2.
10. Same, destroy all the tanks, but now there are many more fighters in the air.
11. An air combat, but this time you only can use the Third Person View.
12. Destroy the tanks in the city,.. and of course many fighters again.
13. Take the bombers out. They are escorted by fighters.
14. Shoot the bombers down before they destroy your city. Watch out for the tanks and fighters everywhere.
15. Final fight: dozens of fighters want to take you out.
As you can see in the screenshots, the graphics are great. There is good sound and most important the controls and the gameplay are great!
Menu:
- Kampan = Campagne (15 missions)
- Bitva = Free flight (an air fight in the desert)
- Kredity = Credits
- Konec = Exit game
Controls: (as far as I could understand)
You have the choice between keyboard, joystick and mouse
Keyboard
Mouse
Joystick
action
W, A, S, D
Mouse
Joystick
Move
Del
Left mouse button
Button 1
Shoot (machine gun)
End
Right mouse button
Button 2
Launch a bomb
Shift/Ctrl
Speed higher/lower
Esc
Pause + menu (restart / continue / exit)
Cheat:
Here is the trick to unlock all the 15 missions:
Open the file Menu\array.dat with Notepad or another ASCII-editor (not with Word!) and change the number to 15. Save and exit. When you start the game again, all the missions should be unlocked
Reviewed by Rudy Caiman
update
Thanks to Andre Fluitman who made a translation into Dutch.
Veel dank gaat naar Andre Fluitman, die een nederlandse vertaling maakte van het spel