Pirates Coin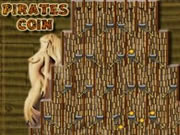 Pirates Coin
by Iron Hand
A strategic puzzle game for one or two players
There is only one aim: outplay your opponent by earning more points than him/her. You will get points for coins that drop in one of the holes at the bottom of the screen, in case it's your turn.
But let's begin at the beginning. Every turn you can drop one coin in one of the eight slots at the upper screen edge. The coin, only controlled by gravity, will find its way down, interacting with the rockers. When it finally leaves the screen through one of the coloured holes it will yield points. The holes are colour-coded as the following: br>
Black holes: One point
Red holes: Ten points
Green holes 30 points
You will play three rounds, with each round, the points you might earn per coin rise (the colours of the holes change), and to win each round you need more and more points.
To win a round, earn the below:
Round One: Ten points
Round Two: 50 points
Round Three: 100 points
When a player wins round three, all points are totaled and the player with the then most points is the overall winner.
Controls: Mouse