Pezzi Pazzi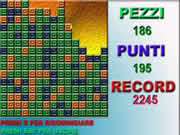 Pezzi Pazzi
by Pino Maiello
A color matching puzzle game (collapse game)
Pezzi Pazzi translated from Italian to English means "Crazy Pieces." It is a variation of a falling blocks type of game. The main objective of this game is to clear the board of all the pieces by left clicking on two or more ajoining blocks which have the same color. These blocks then disappear and the remaing blocks fall down. Sometimes this will leave empty columns. Then use the right mouse button to slide the remaining blocks to the left to fill up these empty spaces. When all the blocks are gone, you then progress to the next level. If you find it impossible to complete the level because there is only one block left, push the R key to restart the game.
This is a very addicting game. There are no sound effects but the one music selection is pleasant and not repetetive. The game plays only in full screen mode and the only options are three choice of tile sets. The most disappointing part of this game is that the high score is NOT saved when you quit the game.
Title screen translation:
Crazy Pieces
by
Pino Maiello
Press space to continue
Game screen translation:
Premi R per ricominciare = Press R to restart game
Premi ESC per uscire = Press ESC to exit
Pezzi = Pieces (remaining)
Punti = Points (score)
Record = Record (High score)
Livello = Level
Menu translation:
inizio = start
opzion = options (tile sets)
esci = exit
Contols:
Mouse
Left mouse button = remove blocks
Right mouse button = slide pieces left
R = restart game
Esc = exit game
Pezzi Pazzi is a simple falling blocks game that is quite addicting.