Octodad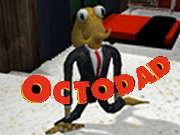 Octodad
Octodad est un jeu vidéo indépendant mettant en scène un poulpe se faisant passer pour un humain.
Loving husband. Caring father. Secret octopus. This is the tagline for Octodad, an adventure game in which players struggle to raise a family, maintain a secret octopus identity and somehow walk upright on tentacles.
Octodad is a third person adventure game about destruction, deception, and fatherhood. The player controls Octodad, a dapper octopus masquerading as a human, as he goes about a day of his life. His existence is a constant struggle, as he must master mundane tasks with his unwieldy boneless tentacles while simultaneously keeping his cephalopodian nature a secret from his human family.
The hilarious Octodad, a game where you pose as an octopus who is posing as a human husband to a human wife and a human father to human children, is extremely creepy if you can move beyond how funny it all is. The game has a sequel, Octodad: Dadliest Catch, which is scheduled to release sometime in 2013. Not to keep us waiting without secret octopus updates, the team released a video containing animation and physics glitches during the game's development. If you thought an octopus pretending to be a human father was creepy to begin with, wait until you watch this thing.
License: Free
Language: English
OS: WinXP, Vista