Need for Speed Underground 2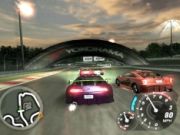 Need for Speed Underground 2
Need for Speed Underground 2 is a game which is simply published by Electronics Arts in the year 2003.
Challenge your competitors in a Need for Speed Underground 2. Coal Harbor, City Core, Beacon Hill, Jackson Heights, and the Airport all offer different driving chances for you looking for the similar sorts of racing ranges offered in Need for Speed Underground. The game will characterizes new game styles, deep new presentation customization and tuning, and more than 30 licensed cars.
The game is clearly based on winning races, earning cash and reputation, and by molding the hell out of your ride. Play challenging levels by downloading this game on your PC.
Publisher: EA Games
Operating systems: Windows Me, Windows 98, Windows 2000, Windows XP
Additional requirements: Windows 98/Me/2000/XP, 933MHz CPU, 256MB RAM, 32MB DirectX 9-compatible video card (Geforce2 or higher)