Naruto Mugen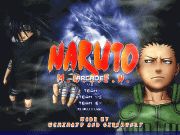 Naruto Mugen
Naruto Mugen enters you into the world of Uzumaki Naruto, a young, aspiring ninja in a school under the watchful eye of Professor Iruka.
Naruto has become famous all around the world, a boy who fight versus powerful enemies and defeat them. This time we can play as NAruto in Naruto MUGEN, a 2D fighting game featuring Naruto and friends.
If you like games like Street Fighter and Naruto, you will love Naruto Mugen.If you are among thousands of followers that the Naruto series has you will surely enjoy this game. Naruto Mugen is a 2D fighting game, similar to Street Fighter, that includes the main characters from this anime TV series. Nearly all the opponents that Naruto Uzumaki has fought against during the series appear in this game: Sasuke Uchiha, Ino, Choji, Shikamaru, Hinata, Kiba, Shino, Rock Lee, Tenten, Neji, Tsunade, Jiraiya, Orochimaru are some of the rivals that you will have to beat to reach the final. The video game takes it's second name from the M.U.G.E.N. graphic engine, specifically designed to create amateur 2D fighting games, without having any design or programming knowledge. This graphic engine allow anyone to easily change the background setting, the characters models, personalize attacks and change the interface to create games like Naruto Mugen. Furthermore, while you combat you can enjoy the brilliant soundtrack that Toshio Masuda specifically composed for the series.
License: Free
Language: English
OS: Win95, 98, 98SE, Me, 2000, XP