Mobius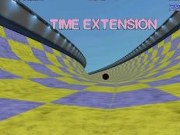 Mobius
by Gavin Woodworth
A race against the time on surrealistic tracks
This game was developed for the Caiman Games Easter Contest, and is loosely based on the Nintendo game F-Zero.
Speed along a snaking half-pipe, racing against the clock to reach checkpoints before you run out of time.
Avoid hazards such as bombs, areas of dangerous heat, gaps in the track and very narrow sections. If you are playing while online, you can submit your fastest laps and races to the Hall of Fame.
Controls:
Arrows = Steer, accelerate, brake
Z = Boost
P = Pause
R = Reset
Esc = Exit to main menu