Mineral Miner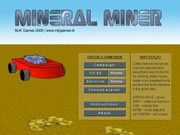 Mineral Miner
by MJK Games
A mix of strategy, finances and arcade
Mineral Miner is a little game that mixes some light strategy with finance and arcade.
The goal is to collect natural resources, refine and sold them for the biggest possible profit. Player must search the playfield for new deposits of iron/coal/oil/gold and keep an eye on the varying market prices of the different resources. Also the distance to the target, fuel costs and repairing costs must be taken into consideration. The resource will be refined at the HQ and sold after leaving the HQ. Gained funds come from the refined resource units multiplied by the current market value of an unit.
The playfield is relatively large, and in the beginning the distances are considerable with slower vehicles. Thus, it`s important to think is it worthwhile to go for all the deposits that appear on the screen.
With the money you`ve got, you`re able to upgrade your vehicle for faster mining, bigger fuel load or bigger resource storage space. Likewise, you can buy upgrades for your HQ that result in faster unloading of the resources from the vehicle to the market. All of these additions increase your future cash flow potential, but you must consider whether they are worthwhile in the given context (of playfield properties and level objectives). You should always consider the potential ROI (return on investment) of your decisions.
The playfield is occasionally occupied by hostile terrorists who will try to damage your vehicle and the HQ. You need to pay attention to the energy levels and repair them when needed.
Features:
- 3 game modes: campaign, 10:00 and Survival
- 19 levels
- Online hi-scores
- Local record files for every level
- Complete instructions