Mario Worlds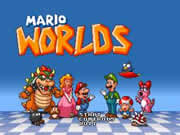 Mario Worlds
by Veratul - Mario Worlds Design Team
Mario Worlds is the best downloadable Mario video game.
For Mario lover's, Mario is a superhero!! It is as simple as all Mario games, but one should know the tactics while playing it. Mario's has decided to set the scores with his enemy. This time he will not leave any of his enemies on his way. Mario will jump on every enemy and kill them one by one. It is not necessary for Mario to have weapons to kill his enemies. His jumping power is enough to kill them all. This will earn some bonus points for Mario.
He needs to be careful while jumping as he may fall down. Avoid enemies and other obstacles throughout the game. Mario needs to collect the coins too which he will find on his way.
A nice Mario platform game!
Controls:
Left / right arrows = move
Down arrow = duck
Z = run/fire
X = jump (hold for higher jump)
Super Jump: Hold down until flashing. While still holding down, press jump.
Esc = return to menu