Mario In Worlds Unknown 2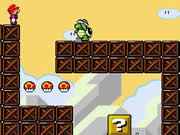 Mario In Worlds Unknown 2
Mario In Worlds Unknown 2 is nothing but a follow-up of Mario In Worlds Unknown game.
Mario In Worlds Unknown 2 game is an awesome downloadable video game. The game is beautifully designed by an artist, named Lord Spaceman. In this, the sound effects and graphics are so attractive that you'll not be able to control your hand playing it. The Super Mario is again in full mood to kill his enemies.
The game cannot be comparable as Super Mario, but one will feel worth playing it. There 13 fascinating levels in this game. Unlock them all, and have fun in being Mario character. It's of course, a fun classic game.
Use Arrow Keys to Move Mario. Press Spacebar to Jump over his enemies.
Controls:
Arrows = move
Space = jump
Ctrl-M = music on/off
Ctrl-S = sound on/off
Esc = exit, back to main menu