Download Little Fighter 2 Game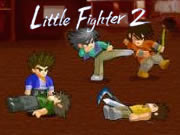 Little Fighter 2
Little Fighter 2 is a popular freeware fighting game for Windows.The game can have up to 4 human players on one computer and 8 characters in network play at one time.
Fast play in a Street Fighter-style environment, Little Fighter seems to have punched and kicked its way to the top. Fitting in with its retro feel, you play a small character with a big head--reminiscent of the Japanese "chibi" designs and fight against the computer or a friend, one-on-one or in a melee.
The control keys are simple and customizable to your preferences, but it's not a hard game to learn. You can move up, down, left and right; you can attack, defend and jump. That's it. No more, no less, and yet some users claim that Little Fighter can suck them in for hours at time. You also can have up to four people playing off the same keyboard simultaneouslya charmingly quaint touch.
The English translation of the game leaves more than a little to be desired, so it will take some messing around to understand how it works. We found the Web site to be unhelpful, but reprogramming the keys to ones we were comfortable with made everything easier. The game is also slow to load at times, but we can see how Little Fighter can get addictive in a big way. Little Fighter 2 features several types of game, including VS mode (one against one or two against two, Championship mode (a tournament with several stages, Stage mode (the classic side-scrolling beat 'em-up game and Battle mode, a team-based variety. You can play them all on your own against computer-controlled characters, but Little Fighter 2 is undoubtedly much more fun when played against real human opponents. Game modes include VS mode, Stage mode (where 1 or more players move through the environment killing increasing numbers and difficulties of enemies, Championship mode and Battle mode involving mass armies led by a player.
The game supports upto 4 human players on on PC and 8 charaters using online play or computer controlled opponents. Characters are controlled using the Keyboard and a gamepad. Characters can be moved up,down left and right and can be made to attack another character. Attacking another character causes the caharcter to lose HP (Health Points. Special attacks can also be carried out and they take up MP(manaPoints
License: Free
Language: English
OS: Win95, 98, 98SE, XP, Vista, 7