Knight of Knights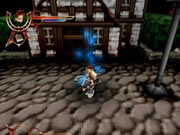 Knight of Knights
by Mitsu
Be a strong Knight to save your Village
Knight of Knights is another RPG 3D game.First you can choose a character you want to play with like fighter, samurai, witch etc.). Each character has different weapons and different abilities. You might want to try the tutorial level for a start to practise your fighting skills. The game itself is set into a village terrorised by different monsters. Your goal is obvious - to kill them all and to restore peace. You will find useful objects along the way that can cure you or give you special abilities.When you fight, you execute a lot of combos.
The combos using these keys can be very cool to watch.You also gain levels as the game progresses like all RPG games.There is only one stage
but with 7 maps for you to explore. In order to go to the next stage, you must find a circle-like area where you are teleport to the next one. There are a total of 4 bosses in the game.
Controls :
Z & X = Attacks; holding both together will execute your special attack. Pressing one of them execute your other speial powers.
C = Jump
V = Use items.
S = Pick up object or use special items
F1= only in dungeon, show maps.