King of Fighters vs. Mortal Kombat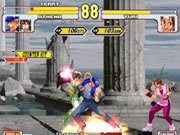 King of Fighters vs. Mortal Kombat
by Darkwork Production
A good MUGEN fighting game (150 MB winXP/Vista)
This is a new M.U.G.E.N. game from the Darkwork Production. In this game 38+1 characters and 28 stages there are (the two hidden character: Shao Kahn, God Rugal)
Controls:
To select a character: H,U,J,K and A to confirm.
H,U,J,K = Move
A = Light punch
S = Strong pnch
D = Stronger punch
Y = Light kick
X = Strong kick
C = Stronger kick
Review :
I like the graphics style in the game. A few additional to King of fighters, like Iori the vampire like.
In Mortal Kombat, the author managed to create the same environment of the orginal.
"Finish Him" is a mortal kombat trademark is well done. I really enjoyed playing & re-living my childhood.
A Must download for all street fighter games like fans.