Kennedy Approach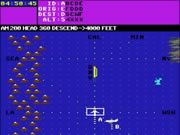 Kennedy Approach
by Weps
A nice remake of an Air traffic control simulation game
Air Traffic Control is one of the world's most demanding professions. Every minute a tower Controller is called upon to make life or death decisions for thousands of passengers and crewmembers. He or she must control a constantly changing situation; monitoring flight departures and arrivals; guiding planes around bad weather, mountainous terrain,and restricted flight areas; coping with fuel emergencies, slow planes, and fast jets (including the supersonic Concorde).
In this fast-moving environment, even the slightest miscalculation can lead to a dangerous near-miss or mid-air disaster!
Air traffic control is not for everybody; to succeed you must have superb concentration, quick wits, and nerves of steal.
See, feel and hear all the action! KENNEDY APPROACH was the FIRST simulation to include realistic high-quality speech right from your computer.
And now, after almost 20 years, it's coming to your Windows PC.
KENNEDY APPROACH gives you a chance to test your mettle. How well can you handle the pressure and responsibility?
This remake contains the EXACT same gameplay as the original. Slightly modified graphics, same voices, same screens, same maps (and 2 more!). Replays can be stored, loaded and viewed again. Career can be saved and loaded. The only thing lacking is joystick support, however, there is mouse support. Time acceleration is possible.
Controls:
Select a plane with the mouse + arrows to give a command
Left/right arrows = Change direction
Up/down arrows = Change altitude
Change game play Speed = "F5" thru "F8"
Sound volume up/down = "+" / "-"
Pause - "Esc"
Screenshot = "SysRq/PrtScn" (ScreenShot folder is created in game's directory.)
new version 1.7
Now it works on win98 and higher too :)
If you already have version 1.4 (or higher) and are NOT behind a proxy, you can also use the update function in the game itself.