Insaniquarium Deluxe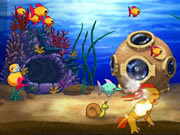 Insaniquarium Deluxe
Feed fish, nurture pets, and fight aliens in this sim-like strategy game.
This action puzzle adventure will have you buy fish, upgrade your weapons, and unlock secret pets as you explore this captivating underwater world. Spectacular 3D graphics, rousing sound effects, an original score, and ruthless alien beasts make this a can't-miss game! Have fun and good luck!
Feed fish? Fight aliens? Collect coins? What kind of crazy game is this!? Explore a captivating underwater world in this insane action-puzzle adventure from the creators of BookWorm and Zuma! Feed your fish and watch your aquarium, and wealth, grow. Then, use your funds to buy more fish, unlock secret pets, and upgrade your tank. But, watch out! Seafood-loving aliens have their eyes on your school and it's up to you to keep them safe. It's not crazy - it's insane! Feed fish and fight aliens in the craziest aquarium around! Work fast to keep the friendly fish fed and happy. Collect the coins they drop to buy better food, new fish species and awesome weapons. And make sure to use those weapons on all the alien intruders, or you'll be sunk!
License: Trial
Language: English
OS: Win98, 98SE, Me, 2000, XP